Towns & villages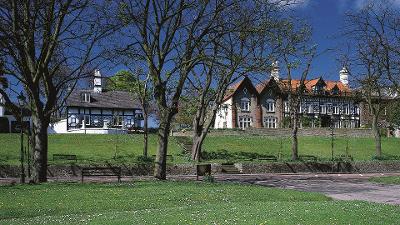 Away from the sand, sea and family attractions you'll discover quaint villages and bustling riverside towns all with their own character and individuality.
Soak up the atmosphere, peace and tranquillity, as you wander leafy lanes then lunch at a cosy village pub.
East Boldon, West Boldon and Boldon Colliery
These three villages border Sunderland, South Shields and Jarrow and are home to fantastic pubs, including the Wheatsheaf Inn featured on the Discovery Channel for its ghostly happenings.
The land is surrounded by green belt with wide open spaces and Colliery Wood has some fantastic walks for the little adventurer or walker.
West Boldon Lodge is a fantastic place for children to take part in some activities and find out about nature and explore local wildlife.
Boldon Leisure Park has a cinema, supermarket and a choice of popular pubs and restaurants are nearby.
The main high street in Boldon has some unique shops and worth a visit.
Hebburn
Hebburn is located on the banks of the Tyne and offers some fantastic leisure facilities.
The state-of-the art Hebburn Central includes a lovely swimming pool, children's play area, library and community facilities, while Monkton Stadium facilties are great for runners and other fitness enthusiasts.
This new town also has a range of parks to pass a sunny afternoon and some fantastic pubs and restaurants including The White Lead and Mambos Italian restaurant.
Jarrow
Jarrow is well known around the country for the Jarrow Crusade. It was in October 1936 that around 200 men left Jarrow and headed to London on their famous protest march.
It was also once the home of the Venerable Bede. He was said to live in the Wearmouth-Jarrow monastic site that spread across land from Jarrow to the banks of the River Wear in Sunderland.
It was from here that he wrote about the Bible and was responsible for calculating the date of Easter. Explore St Paul's Church, where you can see the chancel which would have once stood in Bede' time and see the remains of the later built monastery.
Jarrow has a rich history in shipbuilding and coal mining too.
The shopping centre here has a good choice of shops and there's a good choice of pubs and restaurants.
South Shields
South Shields is a bustling coastal town which is home to many attractions including:
Ocean Road is famous for its Indian, Thai, Italian and award winning fish and chips - so grab a bite at any of these fantastic restaurants, you won't be disappointed.
The town has a good choice of shopping, with high street brands and local names.
South Shields has an open-air market held in the market place which offers a variety of bargains, food and home-made delicacies. Find out more about South Shields Market.
Whitburn
Whitburn has retained its traditional village character over the years and still boasts a local butchers, ice-cream parlour, antiques store and much more which are all worth a browse.
Home to a cricket ground and park with bowling greens and tennis courts as well as Whitburn Golf Club there is always something to do to fill your long summer days.
Don't forget Souter Lighthouse is just a short walk away.
Cleadon
Cleadon is well known for its elegance, countryside views and beauty.
With stylish places to eat and local coffee shops along with unique and independent shops offering goods such as vintage furniture, boutique clothing and organic vegetables you really can enjoy a day out.
Alternatively if you want to blow those cobwebs away, take a walk across the hills and see if you can find the 'white horse' or if you dare, visit the well-known Cleadon Mill and see if you can spot the ghost of Elizabeth Gibbon who is rumoured to haunt the site.
Westoe
Located in South Shields close to the town centre, this peaceful village is made up of Georgian and Victorian houses and The Sir William Fox Hotel is located within the village.
The village has an annual village fayre which is popular with local residents.
The surrounding area is home to some fantastic pubs including the Westoe, The County, bar nine, Hedworth Hall and some tasty restaurants, take-away and cafes.
South Tyneside College and the Readhead Park is a 2 minute walk away, offering tennis courts and play areas. The area is home to a number of unique gift shops including Vintage Darling and Keltic Touch.