Love Exploring App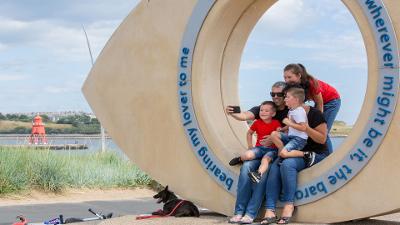 We are delighted that the Love Exploring App is now available in South Tyneside.
It is a fantastic way to enjoy some exercise, learn more about our lovely area and have lots of fun!
What does it do?
The app, which is free to download, allows you to follow guided trails around the area and discover more about our rich history, public art and places to visit.
There is also a games section which takes you into the world of augmented reality - you may even meet some dinosaurs on your travels!
Where can I enjoy the app in South Tyneside?
There are trail routes available on the app in the following areas:
South Shields Seafront Trail - Approximately 2 miles in length, this trail will take you through our beautiful seafront parks and along Littlehaven Promenade.
The Customs House and South Shields Riverside Trail - A route of approximately 1.4 miles starting at The Customs House then following the river path before heading slightly inland and passing sites such as the Old Town Hall.
Whitburn Trail - This route is approximately 3.25 miles and on it you will follow a trail through the beautiful village centre and Cornthwaite Park, along part of the coastline and past Whitburn's historic windmill.
River Don, Jarrow Trail - This route is approximately 1.25 miles and takes you past the popular attraction of Jarrow Hall, the historic St Paul's Church & Monastic Site and around the surrounding area.
Hebburn Riverside Park Trail - A trail that will take you in a loop around Hebburn Riverside Park. The route is approximately 2.25 miles.
Lawe Top & North Marine Park Trail - Discover Lawe Top, the Roman Fort of Arbeia and North Marine Park on this walk with amazing views. The route is approximately 2.2 miles.
Carr Ellison Park, Hebburn Trail - A leisurely walk around the park. The route is approximately 1km and takes around 30 minutes to complete.
There is also a Dinosaur Safari game at: South Shields Riverside, South Shields Sea Front, River Don Jarrow, Whitburn and Hebburn Riverside Park.
New routes added:
The Word Library - A gentle circular walk from The Word along the riverside. The route is approximately 3km and takes 60 minutes.
Cleadon Park Library - A stroll from Cleadon Park Library around Temple Park. This route will take 45 minutes and is 2km.
Boldon Lane Community Library - This walk takes approximately 48 minutes and is 3km.
Jarrow Focus Library - This trail goes from Jarrow Focus Library around Jarrow Riverside. This is approximately 2km and takes 45 minutes.
Hebburn Central Library - A 60 minute 3km trail around Hebburn
Whitburn Community Library - A stroll around Whitburn starting at Whitburn Community Library. This will take approximately 50 minutes.
How does it work?
It's very straight forward to use.
Once you have downloaded the app on to your phone you will be able to see where to head in South Tyneside to start the selected trail. When you are there open the route on the app and it will direct you to the next point on your selected trail.
If you are following the Dinosaur Safari, for example, the map on the app will guide you to where the nearest dinosaur is and alert you when you're close by. Then look through your phone and a dinosaur will appear. Take a selfie with it and then enjoy a dinosaur quiz which is linked to the national curriculum.
How do I download the app?
All you need to do is download it from either:
The app is free of charge.
We would suggest you download the app before you visit. It is available on most mobile phones and a list of compatible devices is available on the links above.
Battery consumption will vary according to phone model so we recommend you being charged up!
Further information
For more details please visit Love Exploring